ACDSeeOnline &Kodak gallery &Picasa &Picasa Web Albums &SmugMug &Zenfolio fotoflōt | 11 Jun 2010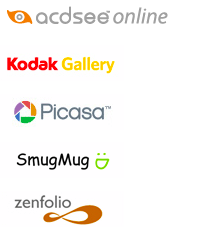 We have added two more ways to access your images via photo sharing services. As you probably know, we have been a print fulfillment option for Google's Picasa software for over a year, and Google's Picasa Web photo sharing users could access their online images from fotoflot.com.
A few months ago we also became a print fulfillment option for Picasa Web users. This means that Picasa Web users can select a "basket" of images from their gallery, then click on a link that will transfer them and their basket of images to fotoflot.com, ready to place an order.
We recently launched a similar relationship with ACD Systems. They provide ACDSee software – photo editing, photo management and illustration applications for amateurs, professional photographers and businesses. There are over 25 million users of ACDSee software worldwide. They have just launched ACDSee Online, a photo sharing service for use by their software customers. fotoflōt is live as their first print fulfillment partner and similar to Picasa Web, a customer selects a basket of images, then transfers to fotoflot.com via a link.
If you use a photo sharing service that we don't support and would like to see a simplified fotoflōt interface to that service, let us know. We can't promise that we can add it, but we'll certainly take a look.