Enhancement &Product fotoflōt | 14 Jun 2010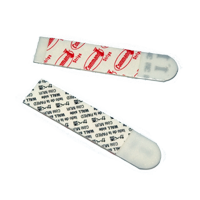 We've been experimenting for some time with ways to attach brackets to the wall without requiring customers to drill holes.
We have experimented with a lot of alternatives, but in our experience, 3M Command Strips are the best solution for avoiding holes. They hold the fotoflōt mounting bracket safely in place indefinitely, and leave no mark on the wall when removed properly.
We're thinking about offering them as an alternative to the screws and anchors we ship with every bracket, but would like more feedback before proceeding. If you'd like to try them out just let us know next time you order a fotoflōt, and we'll include a set of Command Strips in the shipment box at no charge.