Calumet Photographic &Exhibition &Partner fotoflōt | 16 Apr 2013
Update: A video of the exhibition and the amazing images can be found here. And here a time lapse "the making of" video how the fotoflōts were installed for this temporary exhibition.
On Thursday May 9, 2013, Jo Chopra and Ken Carl will open the "Latika Roy Story: Photographic Exhibit by Ken Carl" in the gallery room at the Calumet Chicago store on Goose Island.
Jo Chopra is a co-founder of the Latika Roy Foundation. Ken Carl shot an extensive editorial at the foundation's center in Dehardun, India and will be telling the Latika Roy story through his photography. Images will be displayed on fotoflōt and will be available for purchase as a fundraiser for the foundation.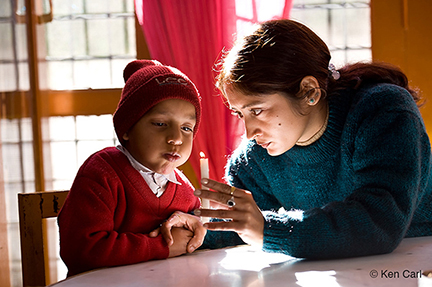 Ken says:
This show is a sharing of a hope in humanity which overwhelmed me while documenting the Latika Roy Foundation in India. Latika Roy is not a quiet, or a calm place. It is frantic with creating joy: Joy of life through compassion, action, teaching, sharing and bonding. These children are handicapped, yet that fact is not a barrier to being a positive light in the family of man. The human spirit can never be handicapped.

Located in Dehardun, India, the Latika Roy Foundation provides therapy, education and vocational training for children and young adults with multiple disabilities. The creators and supporters of Latika Roy are heart-and-soul advocates for a just and inclusive world.
The Exhibition will run from Thursday May 9, 2013 until the end of May.
Event:
Latika Roy Story: Photographic Exhibit by Ken Carl
Opening reception:
Thursday May 9, 2013 at 5:30pm
Exhibition:
May 9, 2013 to May 31, 2013
Admission is free
Venue:
Gallery room at the Calumet Chicago store on Goose Island
Address:
1111 N. Cherry Avenue
Chicago, Illinois 60642
312.440.4920
Sponsors: