UFP Technologies displays its products on fotoflōt

UFP Technologies specializes in fabricating specialty foams, plastics, and natural fiber materials into packaging, components and end products. Headquartered in Georgetown Massachusetts, the company's core business is foam fabrication, where it specializes in creating custom solutions with diverse materials and converting expertise. Their Molded Fiber business is the leading designer and manufacturer of interior packaging solutions made from 100% recycled paper.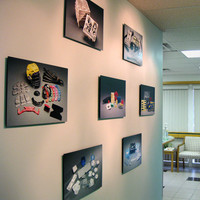 The company serves a number of manufacturing sectors and targets the automotive, computer & electronics, medical & scientific, aerospace & defense, consumer, and industrial markets. UFP Technologies has twelve manufacturing locations in North America.
UFP Technologies partners with its customers to provide solutions that incorporate innovation, market insight, creative problem solving, leading edge processing techniques and knowledge of the latest materials.
We talked with Tom Fitzgerald in the UFP Technologies Marketing department to get a perspective on how and why the company is using fotoflōts.
What was the need that led to your using fotoflōts ?
We had a set of outdated photographs in the lobby of our headquarters building and decided it was time to refresh them.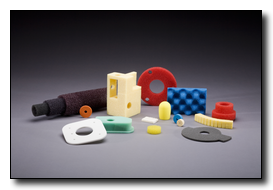 How did you learn about fotoflōts ?
One of my associates is an amateur photographer. He had learned about them on the Internet, and recommended we consider them for this project.
What made you decide to go with fotoflōts ?
fotoflōt has a clean, simple look that catches people's eyes. A number of visitors coming through our lobby have commented on their attractive appearance. The quality of their photographic reproduction is outstanding, and overall they provide a unique solution for displaying images.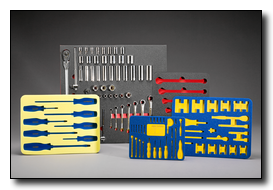 What images are you displaying and where did you get them?
We're displaying photographs of our products. They're at the entrance to our headquarters here in Georgetown Massachusetts, and they show off the range of our fabrication capabilities to visitors. We're also using a few fotoflōts for the same purpose at one of our remote offices.
The photographs were taken by Bill Truslow, who does the photography for a number of our marketing activities.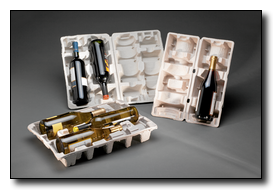 Would you use fotoflōts again?
Yes. Besides having excellent products, their ordering and installation processes are simple and easy. They also provided good communication and made sure that product delivery would meet my schedule. We'll probably use fotoflōts in some of our other facilities.